Here is the Armchair BEA prompt for today:
More Than Just Words
There are so many mediums that feature more than just words and enhance a story in a multitude of ways. Examples may include graphic novels and comics, audiobooks, or even multimedia novels. On this day, we will be talking about those books and formats that move beyond just the words and use other ways to experience a story. Which books stand out to you in these different formats?
I am not a really experimental reader when it comes to format. Frankly I'm not crazy about e-books sometimes. I've never even tried to listen to an audio book! I know I should try it at some point, but I get so distracted. I'm scared that I would put it on during a long road trip by myself and then realize I'd just spaced out and not listened for the last half hour or something. Maybe I just need the right narrator? Like, Patrick Stewart or James McAvoy or Michael Fassbender or Clive Owen......
Sorry I get distracted.....

What I read the most that is outside of the normal book format would be graphic novels.
I'm still slowly making my way through the Sandman series by Neil Gaiman and I've read Watchmen and The League of Extraordinary Gentleman by Alan Moore. However the GN that connect the most with me are the historical ones.
Just a few days ago I finished Max Brook's (of World War Z fame) "Harlem Hellfighters" about black American soldiers during World War I that have to fight with the French because the Americans won't take them. There's a review coming up on the blog in a few weeks about it, so stay tuned!
My favorite (or the most impact-full) GN I've read is the Maus collection by Art Spiegelman. There is a reason that so many people think it's amazing and that it's won so many illustrious awards. The narrator tells the story of his father's survival during World War II. What makes the story so unusual is that there aren't any people. Instead of humans, the different groups of people are all different animals; cats, mice etc. It sounds strange or even a little disrespectful, but it really gives you an unusual perspective.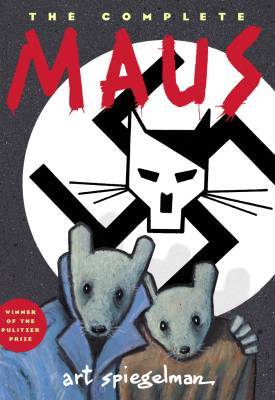 I'm on the lookout for more good historical GN, so if you know of any let me know in the comments and I'd be most grateful!