Guys, I'm spotlighting this book for you, hopefully I will have a review for you later in the month!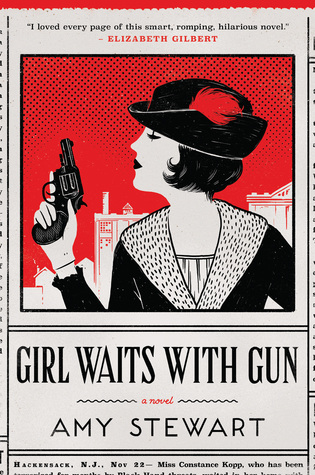 From the New York Times best-selling author of The Drunken Botanist comes an enthralling debut novel based on the forgotten true story of one of the nation's first female deputy sheriffs.
Constance Kopp doesn't quite fit the mold. She towers over most men, has no interest in marriage or domestic affairs, and has been isolated from the world since a family secret sent her and her sisters into hiding fifteen years ago. One day a belligerent and powerful silk factory owner runs down their buggy, and a dispute over damages turns into a war of bricks, bullets, and threats as he unleashes his gang on their family farm. When the sheriff enlists her help in convicting the men, Constance is forced to confront her past and defend her family — and she does it in a way that few women of 1914 would have dared.
ABOUT THE AUTHOR
Amy Stewart is the author of seven books. Her latest, Girl Waits With Gun, is a novel based on a true story. She has also written six nonfiction books on the perils and pleasures of the natural world, including four New York Times bestsellers: The Drunken Botanist, Wicked Bugs, Wicked Plants, and Flower Confidential. She lives in Eureka, California, with her husband Scott Brown, who is a rare book dealer. They own a bookstore called Eureka Books. The store is housed in a classic nineteenth-century Victorian building that Amy very much hopes is haunted.
Stewart has written for the New York Times, the Washington Post, and many other newspapers and magazines, and has appeared frequently on National Public Radio, CBS Sunday Morning, and–just once–on TLC's Cake Boss. She is the recipient of a National Endowment for the Arts fellowship, the American Horticulture Society's Book Award, and an International Association of Culinary Professionals Food Writing Award.
For more information visit Amy Stewart's website. You can also find her on Facebook, Twitter, Goodreads, and Pinterest.