(All Lady July will be a ghost of it's normal glorious self this year, but it's too fun and too good of a cause to not do it at all! So thanks for being here!)
Oh the TBR shelf, a place where books go to languish. However, I organize my books in such a way that I have an "on deck" stack, books that I anticipate will be something I will want to read next. Of course always subject to change - a readers prerogative. So here are some of the books that I anticipate reading soon (or "soon", realistically) that are authored by women. -All synopsis from goodreads.
This ARC is on my coffee table waiting for me as a part of Amy's Historical Fiction Virtual Book Tours!
August 1914
. England is at war. As Evie Elliott watches her brother, Will, and his best friend, Thomas Harding, depart for the front, she believes—as everyone does—that it will be over by Christmas, when the trio plan to celebrate the holiday among the romantic cafes of Paris.
But as history tells us, it all happened so differently…
Evie and Thomas experience a very different war. Frustrated by life as a privileged young lady, Evie longs to play a greater part in the conflict—but how?—and as Thomas struggles with the unimaginable realities of war he also faces personal battles back home where War Office regulations on press reporting cause trouble at his father's newspaper business. Through their letters, Evie and Thomas share their greatest hopes and fears—and grow ever fonder from afar. Can love flourish amid the horror of the First World War, or will fate intervene?
Christmas 1968
. With failing health, Thomas returns to Paris—a cherished packet of letters in hand—determined to lay to rest the ghosts of his past. But one final letter is waiting for him…
I have actually checked this one out from t he library and had to return it because I hadn't gotten to it in time. Oh those damn due dates. Will try again soon!
Novelist Clare Dudman, whose work has earned comparisons to Andrea Barrett and Barry Lopez, is that rare kind of author who can bring history dramatically to life. Here she conjures up the revolutionary nineteenth-century German physician Heinrich Hoffmann (best known today for his book of children's rhymes,
Shockheaded Peter
, or
Struwwelpeter
) as he struggles to cure an inhabitant of Frankfurt's Jewish ghetto who hasn't spoken, slept, or eaten in weeks. As the secrets hidden in the girl's mind are exposed, Dr. Hoffmann also begins to uncover his own buried truths and, in the end, discovers his real reasons for being.
I know, you guys are shocked. A super specific nonfiction book. So unlike me. /sarcasm font/
Discover the tantalizing true stories behind your favorite colors.
For example: Cleopatra used saffron—a source of the color yellow—for seduction. Extracted from an Afghan mine, the blue "ultramarine" paint used by Michelangelo was so expensive he couldn't afford to buy it himself. Since ancient times, carmine red—still found in lipsticks and Cherry Coke today—has come from the blood of insects.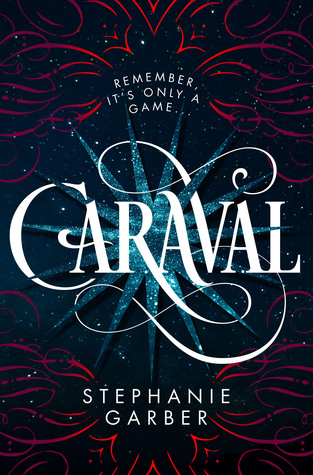 This one is a little hyped and I think the premise isn't as unique as it probably wants to think that it is but I'm still a pinch intrigued.
Scarlett Dragna has never left the tiny island where she and her sister, Tella, live with their powerful, and cruel, father. Now Scarlett's father has arranged a marriage for her, and Scarlett thinks her dreams of seeing Caraval—the faraway, once-a-year performance where the audience participates in the show—are over.
But this year, Scarlett's long-dreamt-of invitation finally arrives. With the help of a mysterious sailor, Tella whisks Scarlett away to the show. Only, as soon as they arrive, Tella is kidnapped by Caraval's mastermind organizer, Legend. It turns out that this season's Caraval revolves around Tella, and whoever finds her first is the winner.
Scarlett has been told that everything that happens during Caraval is only an elaborate performance. Nevertheless she becomes enmeshed in a game of love, heartbreak, and magic. And whether Caraval is real or not, Scarlett must find Tella before the five nights of the game are over or a dangerous domino effect of consequences will be set off, and her beloved sister will disappear forever.
Welcome, welcome to Caraval…beware of getting swept too far away.
Anyone read any of these?