Tanya, Andi and T are doing a fun December activity and I will be participating occasionally. Might be a nice change from the usual. Today's blogpost: 5 favorite reads of last winter!
Last winter was particularly brutal. But luckily good books and a warm apartment helped keep me sane. Here are my five favorite books that I read last winter (summaries and pictures from goodreads):
"HHhH" by Laurent Binet.
"HHhH: "Himmlers Hirn heisst Heydrich", or "Himmler's brain is called Heydrich". The most dangerous man in Hitler's cabinet, Reinhard Heydrich was known as the "Butcher of Prague." He was feared by all and loathed by most. With his cold Aryan features and implacable cruelty, Heydrich seemed indestructible—until two men, a Slovak and a Czech recruited by the British secret service, killed him in broad daylight on a bustling street in Prague, and thus changed the course of History.
Who were these men, arguably two of the most discreet heroes of the twentieth century? In Laurent Binet's captivating debut novel, we follow Jozef Gabćik and Jan Kubiš from their dramatic escape of Nazi-occupied Czechoslovakia to England; from their recruitment to their harrowing parachute drop into a war zone, from their stealth attack on Heydrich's car to their own brutal death in the basement of a Prague church.
A seemingly effortlessly blend of historical truth, personal memory, and Laurent Binet's remarkable imagination, HHhH—an international bestseller and winner of the prestigious Prix Goncourt du Premier Roman—is a work at once thrilling and intellectually engrossing, a fast-paced novel of the Second World War that is also a profound meditation on the nature of writing and the debt we owe to history.
HHhH is one of The New York Times' Notable Books of 2012. "
This book was incredible. It was even funny sometimes, quite a feat considering the subject matter. After reading this book (though it was a little bit fiction) I felt like an expert on this event. When I'm in Prague I will be seeking out all of these places!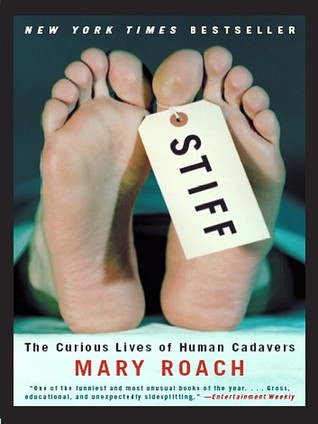 "Stiff: The Curious Lives of Human Cadavers" by Mary Roach
(You can check out my review here)
"Stiff is an oddly compelling, often hilarious exploration of the strange lives of our bodies postmortem. For two thousand years, cadavers some willingly, some unwittingly have been involved in science's boldest strides and weirdest undertakings. In this fascinating account, Mary Roach visits the good deeds of cadavers over the centuries and tells the engrossing story of our bodies when we are no longer with them."
Ah the book that introduced me to Mary Roach. And my favorite Mary Roach book still! Death is a taboo and touchy subject and I appreciate Mary's humorous but respectful approach. I highly highly recommend this book, even if you aren't generally a science person.
"Havisham" by Ronald Frame
(You can check out my review here)
"HAVISHAM
IS THE ASTONISHING PRELUDE TO CHARLES DICKENS'S
GREAT EXPECTATIONS
.
Before she became the immortal and haunting Miss Havisham of
Great Expectations
, she was Catherine, a young woman with all of her dreams ahead of her. Spry, imperious, she is the daughter of a wealthy brewer. But she is never far from the smell of hops and the arresting letters on the brewhouse wall—HAVISHAM—a reminder of all she owes to the family name and the family business.
Sent by her father to stay with the Chadwycks, Catherine discovers elegant pastimes to remove the taint of her family's new money. But for all her growing sophistication, Catherine is anything but worldly, and when a charismatic stranger pays her attention, everything—her heart, her future, the very Havisham name—is vulnerable.
In
Havisham
, Ronald Frame unfurls the psychological trauma that made young Catherine into Miss Havisham and cursed her to a life alone, roaming the halls of the mansion in the tatters of the dress she wore for the wedding she was never to have.
A
Kirkus Reviews
Best Fiction Book of 2013"
You know how I know this book is good? I don't like Great Expectations, and I still really liked this book. I think Miss Havisham is such an interesting character and I was so curious to hear about her backstory. Didn't disappoint!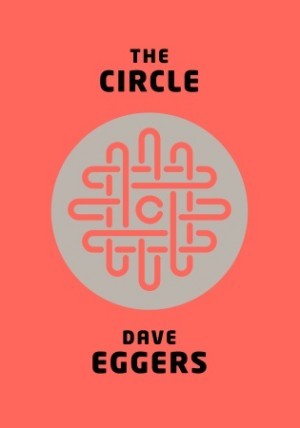 "The Circle" by Dave Eggers
(You can check out my review here)
"The Circle is the exhilarating new novel from Dave Eggers, best-selling author of A Hologram for the King, a finalist for the National Book Award.
When Mae Holland is hired to work for the Circle, the world's most powerful internet company, she feels she's been given the opportunity of a lifetime. The Circle, run out of a sprawling California campus, links users' personal emails, social media, banking, and purchasing with their universal operating system, resulting in one online identity and a new age of civility and transparency. As Mae tours the open-plan office spaces, the towering glass dining facilities, the cozy dorms for those who spend nights at work, she is thrilled with the company's modernity and activity. There are parties that last through the night, there are famous musicians playing on the lawn, there are athletic activities and clubs and brunches, and even an aquarium of rare fish retrieved from the Marianas Trench by the CEO. Mae can't believe her luck, her great fortune to work for the most influential company in America—even as life beyond the campus grows distant, even as a strange encounter with a colleague leaves her shaken, even as her role at the Circle becomes increasingly public. What begins as the captivating story of one woman's ambition and idealism soon becomes a heart-racing novel of suspense, raising questions about memory, history, privacy, democracy, and the limits of human knowledge."
This book is great but also very scary because I can see it happening in the not too distant future. Put your electronics down occasionally before it all takes over!
"Burn" by Julianna Baggott
"The fate of the world is more fragile than ever as Pures battle Wretches and former allies become potential enemies.
Inside the Dome Patridge has taken his father's place as leader of the Pures. His intent had been to bring down the Dome from the inside with the help of the secret resistance force led by Partridge's former teacher Glassings. But from his new position of power, things don't seem quite as clear. Perhaps his father had been right. Perhaps if the world is to survive it needs the Dome--and Partridge--to rule it.
Outside the Dome Pressia and Bradwell continue piecing together the clues left to them by their parents from the time before the detonations. Soon they will be able to help heal the Wretches, freeing them from their monstrous fusings and the Dome's oppression once and for all. But their success also depends on Partridge. Can they still trust their friend and ally to see their plan through? Or will a new war begin?"
I don't generally get over the moon excited about trilogies but this one I was bananas for. It was agonizing waiting for the third book and when it came out I gobbled it up. Love this series because it takes a really harsh look at people and realities after a cataclysmic event.